Wimbledon Street Map
If you are planning to queue on the day for Wimbledon tickets then you will need to know where the queue starts and best way to get there.
London Underground & Main Line Station
The majority of visitors travel to Wimbledon by train. The two nearest underground stations are Southfields and Wimbledon Park (underground), both a 10 min walk from the queue in the Park. From Southfields you walk to the Wimbledon Park Road entrance - this is the main entrance and you will only find Stewards at this gate. From Wimbledon Park (underground) you have a choice of entering the Park from either the Home Park Road or Revestoke Road entrance.
Wimbledon Main Line railway station is a forty minute walk away so taking a bus or taxi to the Park entrance on Wimbledon Park Road is recommended.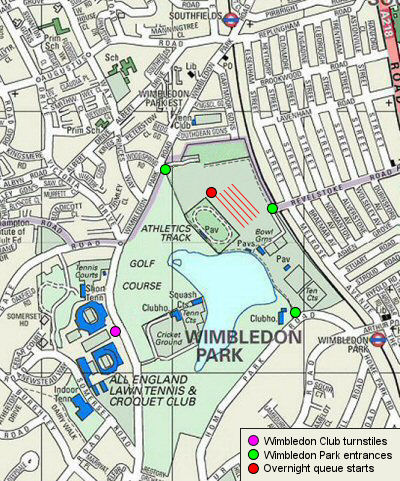 Queue
The red dot shows the start of the queue and the red lines represent the queue formation within the Park. This is where those queueing overnight and in the early hours of the morning will start from. The queue then moves into the Golf Course (running parallel to Wimbledon Park Road) and towards the Wimbledon Club turnstile entrance.
If you plan to arrive much later in the day or evening then the back of the queue may have already moved into the Golf Course. In this case, the Wimbledon Park entrance on Wimbledon Park Road is the most convenient as, upon entering the Park, the Golf Course entrance is immediately to your right.