12th Century
General: Origins trace back to French game called "Paume" ("Palm"), where players hit a small ball over a net by hand.
16th Century
General: The racket was actually invented in Italy in 1583.
General: Paume evolved into "Jeu de Paume" ("Game of Palm") and a racket was used instead of a hand.
1873
General: Major Walter Wingfield invented the game called "Sphairistikè" (Greek for "playing ball") and first introduced it to Wales (UK).
Played on hour-glass shaped courts on Manor House lawns by wealthy English people. This is truly where modern tennis evolved.
General: The game soon became known as "tennis", thought to come from the French word "tenir" ("hold this"), "tendere" ("to hold"), or "tenez" ("to take"). The precise origins are unknown.
1875
Wimbledon: Henry Cavendish Jones convinced the All England Croquet Club to replace a croquet court with a lawn tennis court. Marylebone Cricket Club followed suit.
Wimbledon: Marylebone Cricket Club made significant changes to the game. They added Deuce, Advantage, and 2 chances per serve. The hourglass-shaped court also changed to a rectangular court, identical to the measurements we use today!
1877
Wimbledon: The very first World Tennis Championship was held in 1877 at Worple Road in Wimbledon (United Kingdom), the true home of tennis! The sponsors were the All England Croquet Club. Only 22 players entered the Mens Singles, which was the only event. Spectators paid a mere one shilling to watch the final. The winner of this mens event was Spencer Gore, who aparently speculated that it would not catch on because it was too boring!
1880
Wimbledon: The Overhead Smash was introduced into the game by the Renshaw brothers.
They would dominate Wimbledon for a decade, winning all but 1880 and 1887 championships between them.
1881
General: The United States National Lawn Tennis Association (USNLTA) is founded, and the first U.S. Championships are played.
1884
Wimbledon: The Wimbledon Championships are open to women for the first time. There are only 13 participants. Mens doubles was also introduced for the first time.
1887
General: The U.S. Championships are open to women for the first time.
1887
Wimbledon: Lottie Dod of England wins the Wimbledon Ladies Singles title for the first of 5 times between 1887 and 1893.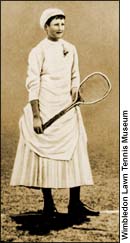 She is the youngest player to win a singles event at the age of only 15 years and 285 days.
1888
General: Our very own Lawn Tennis Association (LTA) is founded in order to maintain the new rules and standards of tennis.
1891
General: The first French Championships are played. However, they rule these Championships are only open to French residents - trust the French!
1897
General: The French Championships are open to women for the first time.
1899
Wimbledon: The All England Croquet Club changed it's name to the All England Tennis & Croquet Club.
1900
General: The first Davis Cup Tournament is held.
1905
General: The first Australasian Championships are played. Only twice between 1905 and 1925 were the Championships held outside Australia (in New Zealand).
1905
Wimbledon: May Sutton won the Ladies Singles at Wimbledon, and was the first international tennis player to win at Wimbledon.
Wimbledon: The Doherty brothers (Laurie and Reggie) won the Wimbledon Mens Doubles title for a record eigth time. Ironically, they were both born in Wimbledon!
1907
Wimbledon: Norman Brookes of Australia became the first international Wimbledon Mens Singles champion.
1908
Wimbledon: Mrs Charlotte Sterry of Great Britain became the oldest Wimbledon Ladies Singles champion at the age of 37 years and 282 days.
1909
Wimbledon: Arthur Gore of Great Britain became the oldest Wimbledon Mens Singles champion at the age of 41 years and 182 days.
1912
General: The International Lawn Tennis Federation (ILTF) is born with an aim of operating the 4 major tennis Championships (Wimbledon, U.S., Australasian, and French).
1920
Wimbledon: Suzanne Lenglen of France became the first player to win the triple crown of Ladies Singles, Ladies Doubles, and Mixed Doubles.

Wimbledon: Building works for a new Wimbledon Championships tournament to be located on Church Street had started. The total cost of this development would cost £140,000ukp
1922
General: The Australasian Championships are open to women for the first time.
1922
Wimbledon: The new Wimbledon Championships located on Church Street was open for business. Prince Albert and the Prince of Wales were at the grand opening. The new arena had a capacity 14,000.
1925
General: Finally the pathetic "French residents only" rule is dropped by the French Championships!
As the Australasian Championships were predominantly held in Australia anyway, they became the Australian Championships and would only be hosted in Australia.
1927
Wimbledon: The idea of seeding players was introduced for the first time.
1928
General: The Stade Roland Garros hosts the French Championships for the first time.
1930
General: One-piece Ash wood tennis rackets are replaced by laminated wood.
1934
Wimbledon: Fred Perry and Miss Dorothy Round won both the Wimbledon Mens and Ladies Singles titles. It has so far proven to be the last British double.
1936
Wimbledon: Fred Perry of Great Britain became Wimbledon Mens Singles champion for the third successive year. This is the last time a British player has won the Wimbledon Mens Singles title.
1938
General: The first tennis player to complete the Grand Slam of all 4 Championships in the same year was the American Don Budge.
1940
Wimbledon: From 1940 to 1945 World War II put a hold on the Wimbledon and French Championships. It was in October 1940 that a Centre Court was hit by a bomb. Fortunately no lives were lost, but we did lose 1200 seats.
1941
General: From 1941 to 1945 the Australian Championships are put on hold.
1946
Wimbledon: Wimbledon and French Championships are open for business once again!
1949
Wimbledon: Fashion designer Ted Tinling created a dress for the American Gertrude "Gussy" Moran that would shock Wimbledon.
Her lace-trimmed knickers were front-page news worldwide, and were even the subject of debate in Parliament!

1950
General: The Pro Tour created by Jack Kramer kicks off and becomes extremely popular with both amateur tennis players and the public.
1953
The first woman to complete the Grand Slam of all 4 Championships was Maureen Connelly.
1962
Wimbledon: The Australian Rod Laver wins the Wimbledon Mens Singles title on his way to securing his first of two Grand Slam titles!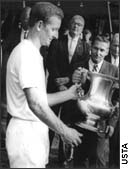 1967
General: The first metal tennis racket appears thanks to Wilson!
1967
Wimbledon: Wimbledon was shown on colour television for the first time thanks to the BBC.
1968
General: The "Open Era" of tennis begins. From now on all tennis players regardless of professional or amateur status will compete in the same tennis tournaments.
1969
General: Having completed his first Grand Slam in 1962 Rod Laver collects his second in 1969. He is the only tennis player in history to have achieved two Grand Slams.
1970
General: Jack Kramer introduces a points system for tennis tournaments. Players earn points depending on how far they go in tournaments and at the end of the season prize money is distributed to those who have accumulatedthe most points.
1970
General: The Tie-break was invented by Jimmy van Allen in the late 1960s, and was then introduced at the US Open following a successful trial period at Newport, R.I. The winner of the tie-break was the first person to reach five points.
1971
Wimbledon: The Tie-break was introduced at Wimbledon, and came into effect if the score in games reached 8-8 in any set except the final set.
1972
General: The Association of Tennis Professionals (ATP) is formed by professional tennis players, and Jack Kramer is chosen as Executive Director.
1973
Wimbledon: Wimbledon is boycotted by the ATP following the suspension of Yugoslav Nikki Pilic.
1975
Wimbledon: The first time players were allowed chairs on court to allow them to rest during a change of ends.
1976
General: The first graphite and fiberglass tennis rackets appear on the scene thanks to Howard Head of Prince.
Wimbledon: The Swedish player Björn Borg won his 1st singles title.
1977
Wimbledon: Virginia Wade was the last British tennis player to win Wimbledon when she won the Ladies Singles title.
Wimbledon: The Wimbledon Lawn Tennis Museum opened.
1979
Wimbledon: Billie Jean King won the Wimbledon Ladies Doubles title, which totalled a record 20 titles in all (6 Ladies Singles, 10 Ladies Doubles, and 4 Mixed Doubles).
Wimbledon: The Tie-break rule was to come into play at a score in games of 6-6 (instead of 8-8), with the exception of final sets.
1980
Wimbledon: The longest Tie-break at Wimbledon was in the 1980 Mens Singles Final between John McEnroe (USA) and Björn Borg (Sweden), with a score of 18-16 in favour of Björn Borg.
Wimbledon: The mighty Swede Björn Borg secures his 5th consecutive Wimbledon Mens Singles title.
Wimbledon: Tennis was played at Wimbledon on Sunday for the first time.
1985
Wimbledon: Boris Becker of Germany was the youngest ever and first unseeded Wimbledon Mens Singles champion at the age of only 17 years and 227 days.
1990
Wimbledon: Martina Navratilova became the Wimbledon Ladies Singles champion for a record ninth time.
1994
General: Martina Navratilova retires from singles tennis, having won a record 167 singles titles, a record 1438 matches won, and an amazing 9 Wimbledon titles!
Wimbledon: Tim Henman was disqualified during a Wimbledon Mens Doubles match after hitting a ball in anger and striking a ball girl (accidentally of course).
1996
Wimbledon: Martina Hingis of Switzerland was the youngest ever Wimbledon champion when she won the Ladies Doubles in 1996 at the age of only 15 years and 282 days.
2001
Wimbledon: Goran Ivanisevic of Croatia became the first Wimbledon Wildcard in history to win the Mens Singles title.
2002
General: Venus and Serena Williams become the first sisters in history to be ranked #1 and #2 in the WTA world rankings list respectively.
2003
General: Pete Sampras retires from tennis at a US Open farewell ceremony. He won 64 singles titles (4th highest ever) including a record 14 Grand Slam titles - 2 Australian Open, 5 US Open and 7 Wimbledon.
2004
General: Roger Federer becomes the first man since Mats Wilander in 1988 to win three of the four grand slam events (Australian Open, Wimbledon and the U.S. Open) in a calendar year. He also captured an ATP-best 11 titles in as many finals, including the end-of-season Masters Cup.
And also set an Open Era record by winning 13 consecutive finals (dating back to 2003), surpassing Bjorn Borg and John McEnroe who won 12 straight finals.
2005
General: Roger Federer's 25-match winning streak (the longest in men's tennis since 1984) ended at the hands of 18-year-old Richard Gasquet in Monte Carlo.
2006
General: The greatest showman in tennis history - Andre Agassi - retires on 3 September 2006 following a 7-5 6-7(4) 6-4 7-5 defeat to Benjamin Becker (GER) in the third round of the US Open.
2007
General: Roger Federer becomes the first athlete to be named Sportsman of the Year at the Laureus World Sports Awards for the third time. Roger said: "It is a great honour for me to recieve this award for the third straight year."
2007
General: Roger Federer become the first Swiss national alive to be honoured through a stamp issue. The one Swiss franc stamp (£0.4; $0.8) shows Federer holding the Wimbledon trophy. Roger said: "It's a great moment. I'm proud to be a symbol like the army knife or the mountains."
2007
General: On the 19 May, Raphael Nadal claims 81 straight wins on clay to set a new all surface record. His run was ended by Roger Federer in the Hamburg Masters final the following day.
2007
General: On the 9 September, Roger Federer became the first man since Bill Tilden in the 1920s to win four US Open titles in a row, beating Novak Djokovic 7-6(4) 7-6(2) 6-4 in the final.
2008
General: Roger Federer became the longest serving consecutive World No.1 with 237 days. His reign lasted from 2 February 2004 until 17 August 2008 when he was succeeded by Rafael Nadal.
2008
General: On 21 October, Laura Robson became the youngest British tennis player in history on the main tour at age 14. Her debut was against 25-year-old world number 42 Iveta Benesova at the Fortis Championships in Luxembourg - wildcard. Despite taking the opening set, Laura was defeated 1-6 6-2 6-3.
2009
General: On 20 April, Marat Safin and Dinara Safina became the first brother and sister to reach world number one. Marat became achieved the top ranking on 20 November 2000.
2009
General: On 7 June, Roger Federer became arguably the greatest tennis player of all time with his victory at the French Open. Federer joins Fred Perry, Don Budge, Rod Laver, Roy Emerson and Andre Agassi as winner of all four Grand Slam titles, and equals the 14 Grand Slam titles claimed by Pete Sampras - who never managed to win on the clay of Roland Garros.
2010
Wimbledon: There were no English men in the Wimbledon singles draw for the first time in its 133-year history. Representing Great Britain were only 2 Scots Andy Murray and Jamie Baker (wildcard).
2011
General:30 January, Andy Murray makes tennis history, by becoming the first player never to win a set in 3 Grand Slam finals. - Lost 6-4, 6-2, 6-3 to Novak Djokovic, Australian Open 2011 - Lost 6–3, 6–4, 7–6(11) to Roger Federer, Australian Open 2010 - Lost 6–2, 7–5, 6–2 to Roger Federer, US Open 2008
2012
Wimbledon/Olympics: On 3 August the longest singles match in Olympic history was held at Wimbledon during London 2012. Roger Federer defeated Juan Martin Del Potro 3-6 7-6(5) 19-17 in 4hrs 26mins.
2014
General: 21 March, Jarkko Nieminen of Finland secured the fastest ATP Tour win record by beating the Australian Bernard Tomic 6-0 6-1 in 28 minutes and 20 seconds at the Sony Open. The record was previously held by Briton Greg Rusedski who defeated the German Carsten Arriens in 29 minutes at the Sydney International in 1996.